Scarlino Castle in the Grosseto region of Tuscany acted as a stronghold against enemies and pirates landing at nearby cities.

Poggio Tondo is a hill covered by dense Mediterranean scrubland. The necropolis of Poggio Tondo, which rises up out of the valley Alma in the territory of Scarlino, is datable to between the mid-seventh and the mid-sixth century B.C and pertains to a settlement which was under the rule of Vetulonia. At present four tombs from the necropolis are visible. "La Tomba del tamburo" "La Tomba del Carro" "La Tomba del Cippo" "La tomba delle Due Porte, "the Etruscan farm, a building still little known in etruria.



The Centre for the territorial documentation in Scarlino, piazza Guelfi, presents the exibition "The Etruscans in Scarlino" with the most significant finds of the tombs and educational displays.

Territorial Archive Centre | Via della Rocca - Scarlino (GR)
Opening hours: Tuesday, Thursday and Saturday 9.00 - 12.00
Opened in 1994, the centre is set out in two areas that display the results of the archeological research carried out on the "Rock of Scarlino" between 1979 and 1983, as well as the documentation of the territory's Etruscan and Roman Age.


At Puntone di Scarlino the modern yacht harbour, which is also the perfect starting point to visit the faunal oasis of more than 700 ha of coastal scrub-land, where are still living undisturbed roe deers, wild boars, badgers and porcupines. The Bandite di Scarlino can only be reached on foot, by bike or on horseback along well-marked trekking routes.




Chiesa di San Donato

Inside the Follonica Gulf, in the Bandite di Scarlino reserve, which is divided by a small promontory from Punta Ala, among a multitude of small caves, you will find Cala Violina. The beach's name derives from its very rare characteristic (it appears there is only one another beach with such a peculiarity) by which, steeping on the sand, the latter will echo back the harmonious notes of a violin.
Cala Violina has been rewarded from Legambiente as one of the 11 most beautiful beaches of Italy.

Comune Scarlino





Cala Violina




Scarlino, castel









Rocca Scarlino

Rocca di Scarlino

Rocca di Scarlino

Gavorrano




The medieval center of Gavorrano rises on the side of Mount Calvo in the heart of the Grosseto Maremma with a splendid view of sea and hills.
Gavorrano was founded in the 11th century as a possession of the Bishop of Roselle. Main sights are remains of Castel di Pietra ("Stone Castle"), built by the Count Nello of Pannocchieschi. This castle passed to the legend because it was the place where Pia of Tolomei, Nello's second wife, was murdered by her husband. She died in the Castello di Pietra. The great Italian poet Dante Alighieri remembered that event in his Divine Comedy (Purgatory V: "Siena mi fè, disfecimi Maremma " "Siena gave me life, Maremma took it away").
The tragic story of the noble woman from Siena is re-enacted every year - usually on the first Sunday of August - in the festival called "Il Salto della Contessa", the "Countess' Leap". The re-enactment is presented in medieval costume, with parades, flag throwers, a horse race and a theatrical representation of the Countess' murder at the hand of her husband, Nello dei Pannocchieschi.

Map Gavorrano url


Parco Minerario Naturalistico Gavorrano
Gavoranno was an important mining center and the stone quarries and infrastructure for its excavation are still visible in the area. Today a part of the abandoned mining structures has been converted into a large museum complex: the Parco Minerario and Naturalistico di Gavorrano (Mining and Naturalistic Park of Gavorrano).

Walking in Tuscany | Itineraries (it)







Gavorrano

Caldana is a frazione of Gavorrano. Main sights are the Church of San Biagio and the Oratorio di Sant'Antonio da Padova.
Caldana is situated on a hilltop surrounded by luxuriant olive trees, a few kilometres from Gavorrano; it has retained the features of an early medieval village.
The town is built within the formidable walls of the castle. With its quadrangular shape, it preserves its 16th-century appearance, including four-cornered bulwarks and sloping foundation, directly upon which the structures of homes lean.

Divided by three parallel streets that merge into the small centre opposite the Renaissance church of San Biagio, this ancient village safeguards a network of cellars connected to each other by underground passageways, open to the public on special occasions.

The Chiesa di San Biagio is located in the main square of Caldana, facing onto a spacious panorama. The churchis one of the few examples of a holy Renaissance building in the Maremma area. Behind the main altar, a fresco depicting St. Blaise and St. William stands out against the luminosity of the wall. It was painted by Giuseppe Nicola Nasini.
The Nasini family were painters originally from Castel del Piano who worked mainly on Mount Amiata, between the 1700s and the second half of the 1800s. They were very prolific artists and it can be said that there is no church, oratory or small chapel in this territory that does not have one of their paintings.

Campiglia Marittima, a typical medieval village, with its narrow streets and the houses all gathered around the castle, has a very ancient history.
An urban settling had been probably existing there since the Etruscan age.
in the 8th C., the counts of Gherardesca built there a fortress, on the top of the hill, which became very poweful in the 10th C.

Campiglia Marittima is a renowed and well equipped seaside resort, with wide and beatiful pinewoods, an efficient touristic harbour and a fantastic acquatic park.
Beside the picturesque historical centre, the surroundings are worth visiting, as the Gothic Pieve di San Giovanni, the Etruscan furnaces, the Rocca di San Silvestro, the spas of Caldana and the ancient calidarium, with its thermal little lake.



Thermal waters of the Valle del Sole | Loc. Caldana (Valle del Sole Terme)
The thermal waters of the Valle del Sole Spa come from the hot springs of Caldana. Both the Etruscans and the Romans knew of the therapeutical effect of this springs. The Spa water has a natural temperature of 45° and comes from a crater in Caldana while the swimming pool water comes from the springs of Canneto (36°). The springs supply the Bagni di Caldana (well equipped for therapeutic treatments) and the Calidario lake. The Calidario thermal baths are set in splendid historical surroundings.

Caldana


La chiesa di San Biagio in Caldana



Campiglia Marittima, Pieve di San Giovanni




Hidden secrets in Tuscany | Holiday house Podere Santa Pia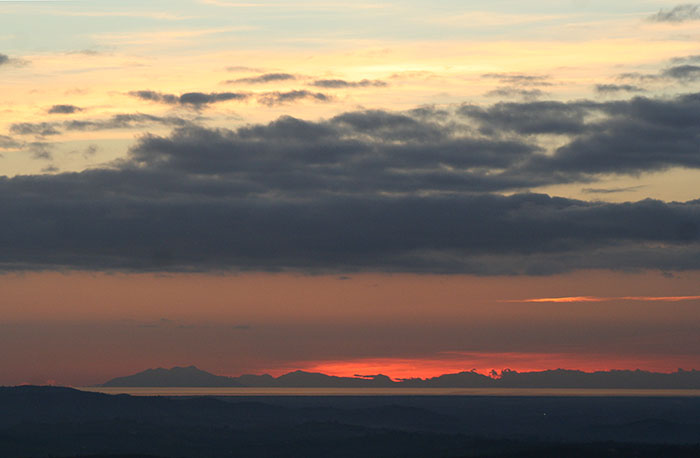 Podere Santa Pia, with a magnificent panoramic view of the Mediterranean Sea is a peaceful retreat, perfect for relaxing and enjoying the splendor of the Maremma hillsides that rise up from southern Tuscany, with a view up to Montecristo and Corsica
Scarlino borders Castiglione della Pescaia, Follonica, Gavorrano and Massa Marittima. Il Puntone and Scarlino Scalo are frazioni of Scarlino
.


Cala Violina is a charming part of the Maremma Grossetana, it's located in the heart of the Natural Reserve of the Bandite di Scarlino, within the Protected Area of Local Interest of the Costiere di Scarlino. The Bandite di Scarlino is a forest complex of large size (about 8,700 hectares), which are part of the municipalities of Castiglione della Pescaia, Gavorrano, Scarlino and Follonica. The name Bandite, which may be confuse being in the Maremma, is derived by the announcements that were made for the sale of lots of woods. The Bandite have an adequate and efficient network of marked trails for hiking and mountain biking+
.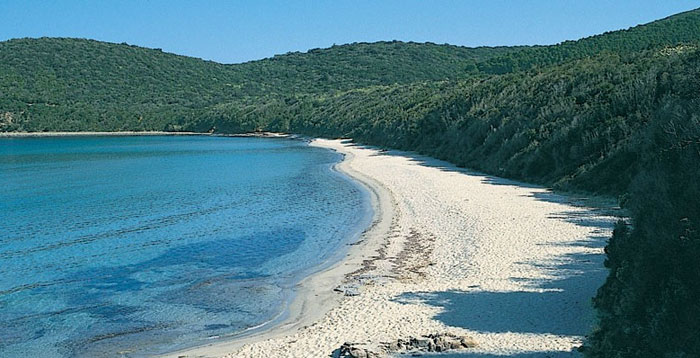 Cala Violina


Follonica is situated in the centre of a fantastic gulf which stretches from Piombino to Punta Ala. There are beautiful beaches and an unpolluted sea.
Located within the Gulf of Follonica near Punta Ala, the beach of Cala Violina is one of most special beaches in Tuscany. Cala Violina (or Violin Beach) is a sandy bay of great beauty that in 2004 and 2005 was rewarded by Legambiente as one of the 11 most beautiful beaches in Italy. It is enclosed between two capes and is characterized by fine white sand and very clear waters with sea beds of rare beauty populated by Posidonia Oceanica and large sandstone blocks, among which you can see fish of all sizes. Posidonia Oceanica, is a seagrass that play an important role to oppose the erosion of the coastline, for the oxygenation of the water, and its presence is a sign of great cleanliness and purity of water, it covers with his remains, brought from seas-storm, also part of the beach.
This beach is immersed in a green landscape formed by a dense and lush Mediterranean vegetation where you can find picnic tables, particularly useful if you brought with you your lunch and decide to spend the whole day at the beach.

Cala Violina is certainly among the best beaches of Tuscany, if not the best. The only drawback is the long walk to get there, and the fact that in high season it can get a little overcrowded.


Cycling in Tuscany | Cala Violina (it)
Walking in Tuscany | A walk close to the sea, towards Cala Violina and Cala Martina
Here a detailed map with the instructions to get to Cala Violina and Cala Martina, and where to park.
GR Punta Ala - panorama, 1962, Collezione cartoline Albertomos